Announcements
Conference Need-to-Knows!
Convention Centre – Hawaii Convention Centre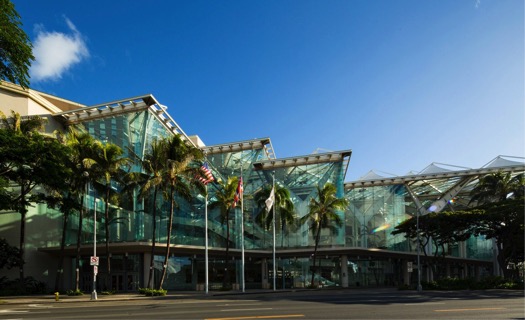 The 15th Annual Meeting for AOGS2018 will be held in Hawaii Convention Centre, Honolulu, Hawaii. Situated just 8 miles (12 km) from the Honolulu International Airport, the convention centre stands at the heart of Honolulu. With a wide array of shopping, dining, hotels and entertainment located within 1.5 miles of its vicinity; coupled with unbeatable event spaces and services, Hawaii Convention Centre definitely is an ideal meeting venue for every visitor to Hawaii!
Address
Hawaii Convention Centre
1801 Kalakaua Avenue
Honolulu, HI 96815
Tel: (808) 943-3500
Click here for the map
Getting to HCC
From Honolulu International Airport by Taxi/Driving:
1. On exiting the Airport, take the H-1 EAST on-ramp
2. Stay in the right lane and exit onto NIMITZ HIGHWAY
3. Stay on NIMITZ HIGHWAY for 6 miles (becomes Ala Moana Blvd.)
4. Turn LEFT onto ATKINSON DRIVE
5. Turn RIGHT onto KAPIOLANI AVENUE
6. Turn RIGHT onto KALAKAUA AVENUE
7. Enter the parking garage on the RIGHT