Announcements
Conference Need-to-Knows!
Visa Information
A. Entry Requirements
B. Visa Waiver Program (VWP)
C. Visitor Visa
D. Invitation Letter for General Administrative Purpose
WHAT'S NEW?
a. Learn about obtaining visa, as well as apply for your visa
b. Obtain USA New Presidential Proclamation on Visas
Click here: http://www.ustraveldocs.com/
c. Hawaiian Tourism Authority Letter in Support of AOGS
Download/Print Here: HTA Letter in Support of AOGS.pdf
A. Entry Requirements
1. All visitors to United States must have valid travel document (e.g. passport) and it must be valid for at least six months from date of travel.
2. Visa processing time varies so it is recommended that you start the process early.
B. Visa Waiver Program (VWP)
The VWP enables nationals from Visa Waiver Countries to enter the United States for tourism or business purposes for up to 90 days without obtaining a visa if all the requirements below in i., ii. and iii. are met.
i. Visa Waiver Countries
Citizens or nationals of the following countries are currently eligible to travel to the United States under the VWP, unless citizens of one of these countries are also a national of Iraq, Iran, Syria, or Sudan or have travelled to Iran, Iraq, Libya, Somalia, Sudan, Syria, or Yemen on or after March 1, 2011 (with limited exceptions for travel for diplomatic or military purposes in the service of a VWP country).

See List of Visa Wavier Countries here: https://www.esta-visa.org.uk/which-countries-are-in-the-visa-waiver-program/
ii. Electronic System for Travel Authorization (ESTA)
VWP travellers are required to apply for authorization though the ESTA. The purpose of ESTA is to allow the Department of Homeland Security to pre-screen all Visa Waiver Travellers and determine the eligibility of visitors to travel to the United States under the VWP. Authorization via ESTA does not determine whether a traveller is admissible to the United States. U.S. Customs and Border Protection officers determine admissibility upon travellers' arrival. Under this program, travellers are recommended to apply for a Travel Authorization at least 72 hours prior to departure.
Apply for an ESTA here: https://www.esta-visa.org.uk/
Documents required:

Valid e-passport from a visa waiver country that has minimum 6 months validity from date of travel
Valid credit card or PayPal to pay processing fee of US $14 per application
Contact information
Most recent employment information, if applicable
For more information, visit the U.S. Customs and Border Protection website here.
iii. E-Passport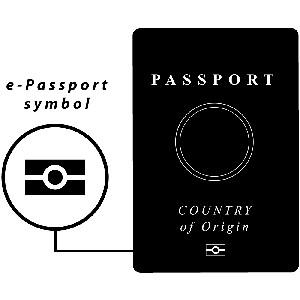 As of April 1, 2016, travellers must have an e-passport to use the VWP. An e-Passport is an enhanced secure passport with an embedded electronic chip. The chip can be scanned to match the identity of the traveller to the passport. E-Passports are issued by the proper passport issuing authority and must be in compliance with standards set by the International Civil Aviation Organization (ICAO). An e-Passport can be readily identified because it has a unique international symbol on the cover.
For more information, visit the Department of Homeland Security website here.
C. Visitor Visa
Visitor visas are non-immigrant visas for travellers who want to enter the United States temporarily for business (visa category B-1), tourism, pleasure or visiting (visa category B-2), or a combination of both purposes (B-1/B-2).
Who Should Apply:
Travellers holding passports from countries not listed above
Travellers who are eligible for the VWP may apply for a Visitor Visa instead, if they prefer to do so
Travellers who do not meet all of the VWP criteria above in (B)
Travellers who intend to extend their stay beyond 90 days
How To Apply:
Complete the Online Non-immigrant Visa Application Form DS-160.

The visa application requires that you upload a digital photo of yourself and it must comply with the Photograph Requirements. If the photo upload fails while completing the online form, you must bring to your interview one printed photo formatted according to the Photograph Requirements.
Print the confirmation page and bring it along to your interview.

Schedule an appointment for your visa interview, at the U.S. Embassy or Consulate in the country where you live. You may schedule your interview at any U.S. Embassy or Consulate, but be aware that it may be difficult to qualify for a visa outside of your place of permanent residence. Wait times for interview appointments vary so you should apply for your visa early. To locate a U.S. Embassy or Consulate, click here
Pay the non-refundable visa application fee (if required to do so before your interview) and bring along the application fee payment receipt to your interview. When your visa is approved, you may also pay a visa issuance fee, if applicable to your nationality. To find out the applicable fees, click here.
For more information on Visitor Visa Application, click here.
D. Invitation Letter for General Administrative Purpose
To generate a General Invitation Letter, please fill out the online form below:
http://www.meetmatt-svr2.info/visaletter/form.php?confid=15
You will be required to furnish the following personal particulars:
Title (i.e. Dr/Prof/Mr/Ms):
First/Given Name:
Last Name:
Passport Number:
Email:
Job Title:
Organization:
Contact Address:

Last updated: 13 Jun 2017